Award-winning Australian shin splints treatment, Solushin®, is proud to announce its partnership with the Melbourne Rebels, an Australian professional rugby union team based in Melbourne, as the official supplier for shin splints treatment.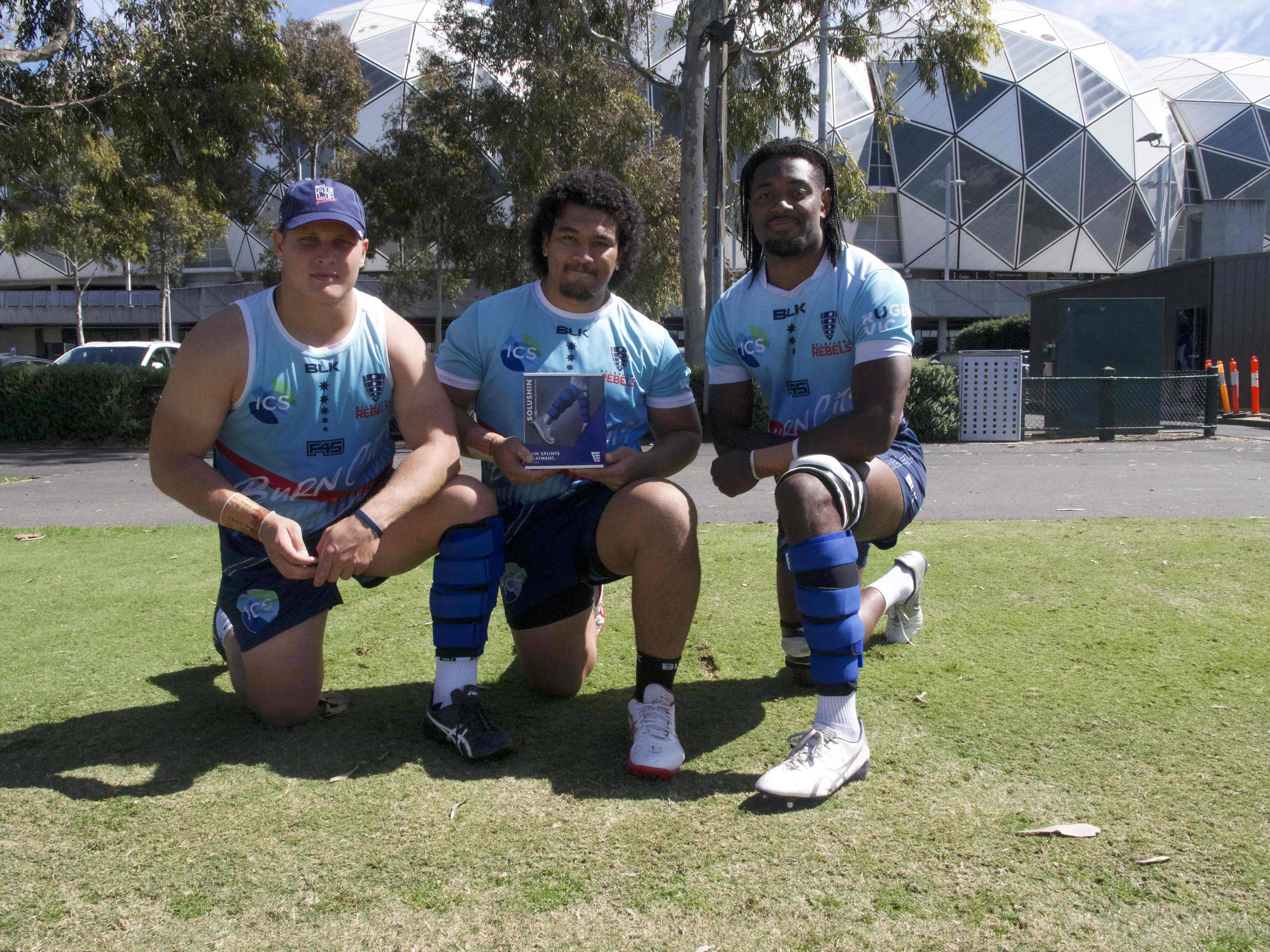 (L-R): Theo Fourin, Efi Maafu, Joeli Biabalavu
The Rebels have had great success in managing the injury with the Solushin over the past few months as part of a multifactorial injury treatment and prevention strategy.
The Solushin® was invented by three former elite athletes, now a medical doctor, biomedical engineer, and product designer. When suffering from the injury, the inventors were frustrated with the long timeframe and rest required to get back to running with no pain. They invented a medical device to help shin splints sufferers run pain-free, faster.
The Solushin® utilises a patented counter-traction technology to effectively treat the injury. For more on how it works, click here.

With the sentiment mirrored by numerous rugby players, the team connected with Luke Vella, the lead strength and conditioning coach at the Melbourne Rebels.
After first engaging with Luke during his time at Edinburgh Rugby, Luke was happy to introduce the Solushin®
"The team at Solushin have developed a bespoke industry-leading product that provides a beneficial treatment option to our players. The team at Solushin are one of the best in the world at managing shin pain, and I have absolute faith in his product. We use Solushin proactively in players that have had medial shin pain as part of a multifactorial injury prevention strategy, and reactively as a key component of our rehabilitation protocols."

- Luke Vella
What did the athletes say?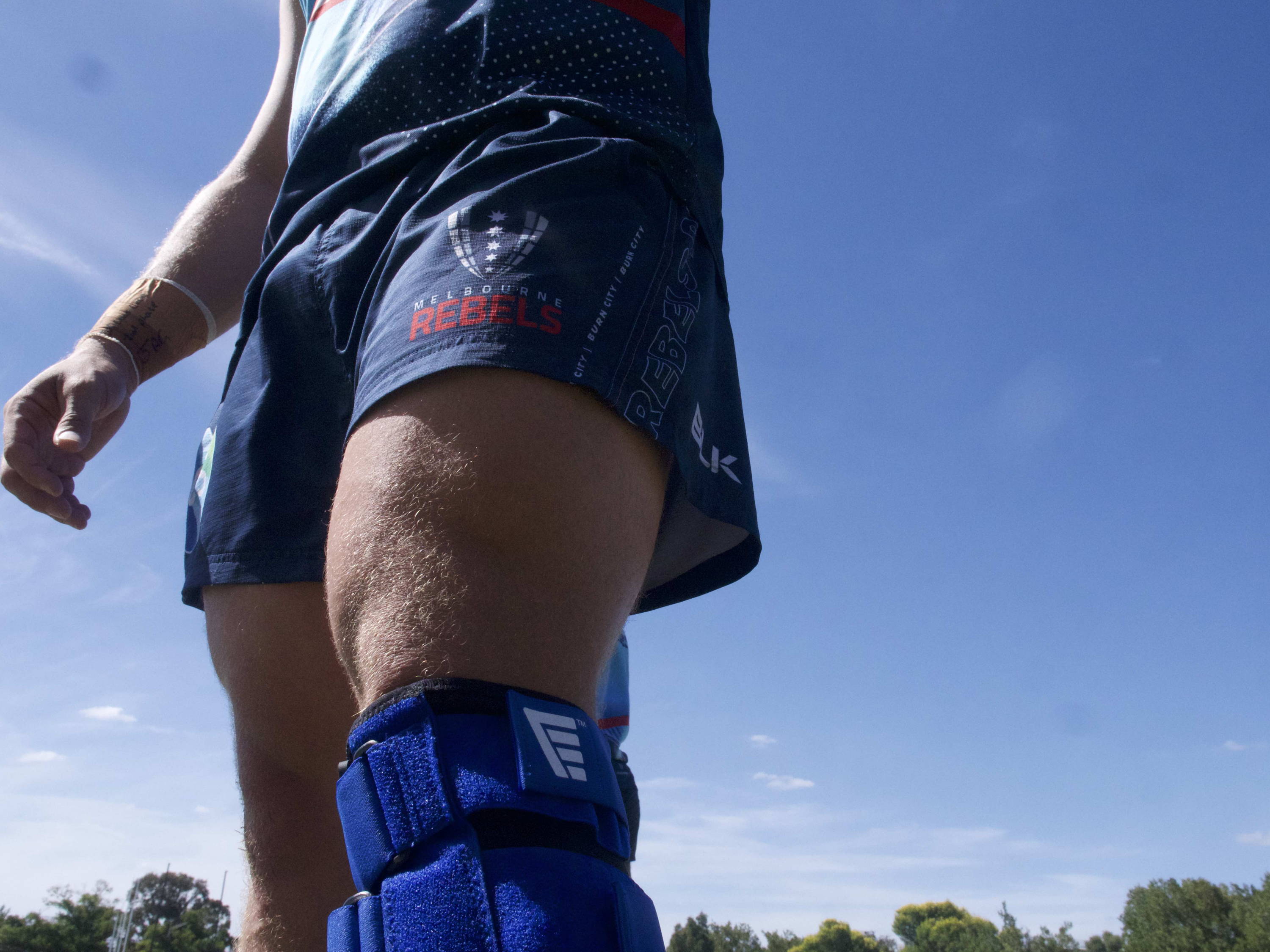 The Solushin® is being used by professional players, like the Rebels, to treat their MTSS
After struggling with shin splints in the pre-season, Efi Ma'afu was given a pair of Solushin's, and within 2-weeks, his shin pain had gone away.
"I have always struggled with shin pain, especially during pre-season when running loads are much higher. At the first onset of shin pain this year I started using the Solushin cuffs in the evening as part of my recovery. Within 2-weeks my shin pain had gone away and I was able to complete my first pain free pre-season in years. I would highly recommend the device to any athletes struggling with shin pain."

- Efi Ma'afu
Similarly, teammate Theo Fourie battled shin splints in the pre-season. This included initially being removed from training to overcome the injury.

"I started pre-season later than the rest of the squad this year, so I was playing catch-up from day 1. I was struggling with shin pain and had to be removed from training for a short period of time. I used the Solushin device as a part of rehab and my return to running and training was smooth and pain free. The device was easy to use and played a really important part of my recovery."
- Theo Fourie
Additional Praise for the Solushin®
Dr Ameer Ibrahim of Sydney Sportsmed Specialists (former Roosters Chief Medical Officer, ex-Sydney FC Chief Medical Officer) used the Solushin® to treat shin splints in various elite athletes. Ibrahim enthused, "the Solushin is a revolutionary product that will change the way we treat shin splints. I've used the Solushin® on a few patients to date with excellent results."
Roger Fabri of Roger Fabri Speed Academy (RFSA) recently reported remarkable success in using Solushin® on a long-term shin splints sufferer. Fabri celebrated, "one of our athletes suffered from shin splints for years, and we have struggled to find her a treatment that works. After just four days wearing the Solushin®, she had no pain in one of her legs and a significant reduction in pain in the other."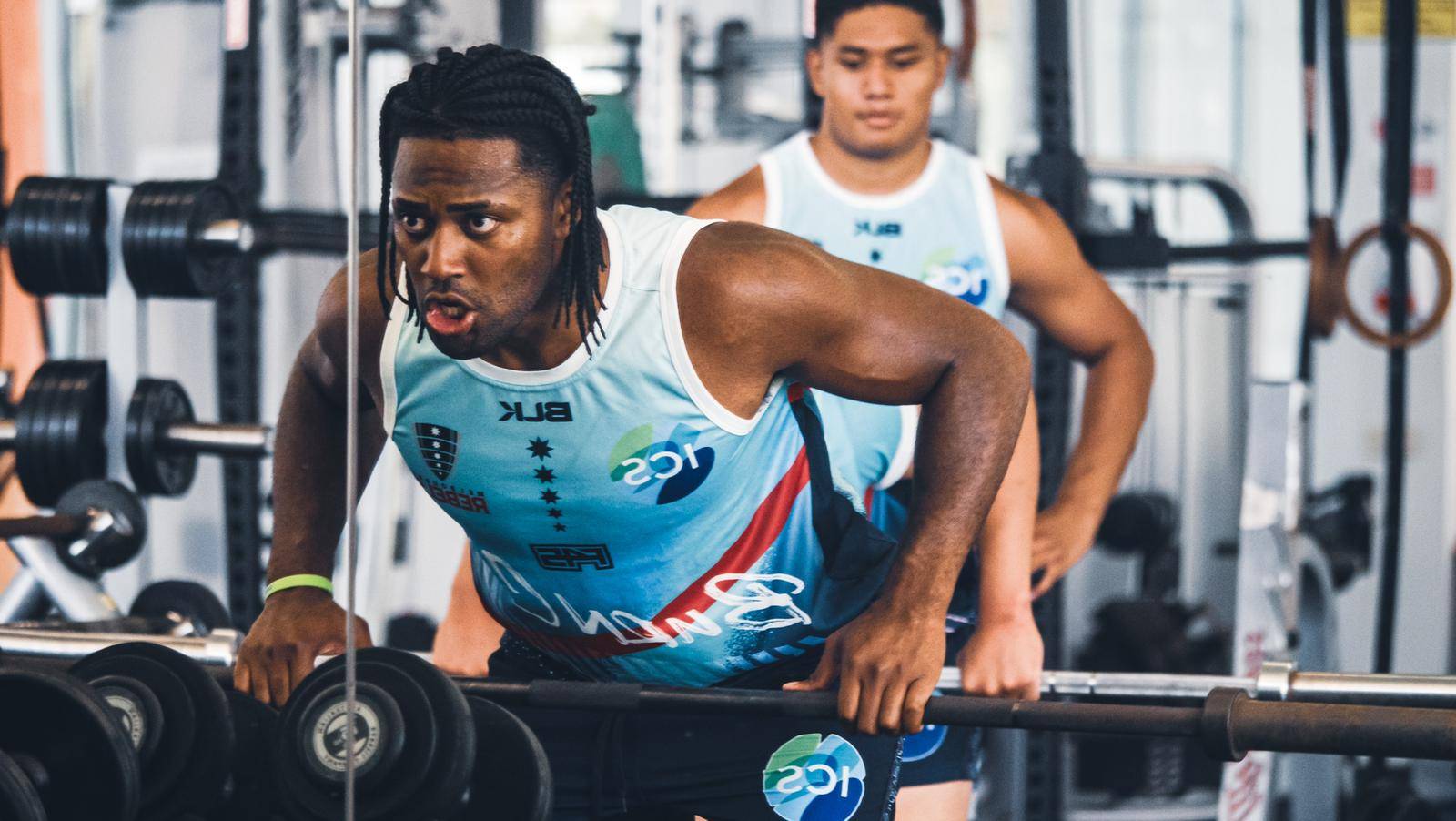 Come and find the Solushin® at the 2021 Foot and Ankle Show in Liverpool, UK
Developed on a foundation of clinical evidence and clinically trialled by medical professionals, Solushin® yields more effective results than any other device, orthosis, or treatment on the market. Solushin® has demonstrated in a clinical setting that it works up to 5 times quicker than competitor treatment options to get people back to running shin pain-free.
If you or your athletes are struggling with shin splints, don't hesitate to reach out to the team at Solushin®.
Contact Details:
Email: team@solushin.com
Instagram: @thesolushin
Facebook: @thesolushin