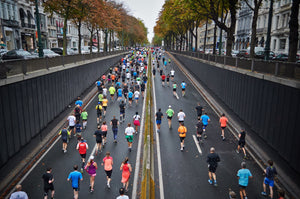 5 Running Events You Should Do
Entering a running or obstacle event is a great way to establish a new goal. Here in Australia, we are fortunate to have some great events that all runners, amateur or professional, should enter.
We've tried to mix it up by compiling our favourite running and obstacle events here in Australia.  
Check them out!
1. Spartan Race Australia.
Spartan is the race that will change your life. Considered one of the best obstacle course races in the world, Spartan is responsible for getting thousands of Australian's off their couches and transforming themselves physically and mentally.
There are 3 courses ranging from 5km to 21km, so don't panic if you're a bit concerned about entering a half-marathon with obstacles.
Check out their homepage for races in your area.
2. City2Surf (Sydney, Australia).
The Sun Herald City2Surf is a staple of running in Sydney.
Selling out every year, this event sees you running from Sydney's central business district, through some beautiful suburbs along the edge of the harbour, before turning south along the coast into Bondi beach.  
This is an absolute must for any runner, and only 14km in length, it's no big ask for a relatively new runner to step up and train for this event. 
3. Parkrun.
Now, this is a different event altogether. As mentioned in a previous article, parkrun's are 5km community organised runs that happen every saturday around the globe.
It's completely free, fun and safe. You should definitely try one out!
4. Tough Mudder.
Tough Mudder is "more than an event, it's a way of living, a community of like-minded individuals who want to escape the ordinary, leave the mundane behind them, and work together to achieve something new."
Around the globe, over 3 million people have completed the Tough Mudder events; however, it's not for the faint hearted. 
You can enter the 5km course, the classic 16km course, or the "Toughest Mudder", a grueling 12 hour race over an 8km course. 
Oh, I almost forgot, you will run through live electrical wires.
For more, check out the event here.
5. Bridge to Brisbane.
For the past 23 years (as of 2019), the Bridge to Brisbane has enabled locals and visitors to run past iconic landmarks over a 5km or 10km course. 
As Queensland's most popular fun run, this is a race you have to enter. 
---